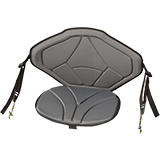 Expedition Seat
Item # 3030
The Expedition Seat conforms to your back to provide good back support and comfort. With less padding than the other seats, it is a more contoured fit. It is great for fishing, paddling, and recreation.
Product Specs:
Weight: 2lbs
275cm Aluminum Paddle
Item # 8070
275cm Aluminum paddle featuring the Wave blade from Cannon Paddles
Product Specs:
Weight: 42 oz
C-Tug Kayak Trolley
Item # 2615
The C-Tug has a sophisticated style and precision design. It is highly versatile, durable, won't rust and can carry up to 300lbs. When you're ready to hit the water, it dismantles for easy stowing.
Product Specs:
Material:  Reinforced composite material, thermo-bonded elastomeric hull pads, stainless steel reinforced axles
Weight: 8.5lbs
Compatibility: Pursuit, Frontier 10 & 12, Classic 10 & 12
Swivel Seat Mount
Item # 2210
With the Swivel Seat Mount you can add the Max 360 Seat and turn your fishing world around and around in maximum comfort.
Product Specs:
Material:  Marine Starboard
Weight: 3lbs